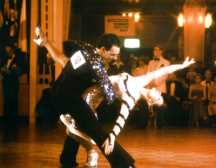 In this exclusive interview, world class coach, Robert Richey shares insights about his many accomplishments as Blackpool (British Open) finalist, as well as the changing world of DanceSport in the new Millennium...

How did you first become interested in Ballroom Dancing/DanceSport? (e.g., ages you started, motivation for starting, etc.) ?

My younger sister was a student at a famous dance studio in Melbourne, Australia and was attending one of their monthly "Conventions", which were open competition evenings where couples from most of the local studios competed against each other. These were quite informal events with entry on the night and usually one judge, who chose the winner by simply awarding them a small plastic trophy immediately after the dances, had been completed. (Yes, they actually had plastic in those days!!)
I had been in the city (I guess you call it downtown) for the day with some school friends and called in to the studio to get a ride home with my parents. We lived about 12 miles from the city and that was a long journey by coach & horses!! (Just kidding, there was an "iron horse")
On this particular evening, a Ballroom Demonstration was given by a couple called Fred & Terry Jenyns. I was so impressed with this that I said to my parents, "If Dancing can be like that, I wouldn't mind giving it a try".
Even in those days, the girls who were involved in dancing were mostly very attractive, and I was 14 at the time, however I must stress that the prospect of getting to know some of these beauties had no bearing whatsoever on my thoughts about taking up dancing.
The following Saturday, I was rolled into the studio and taken to the beginners end where I immediately took the starring role as the most hopeless student to ever darken the doors of the studio. I found out later that the other mothers used to say to my mother, "Oh, poor Robert. He'll never learn"
Anyway, some progress was made and at a studio convention night, my sister was persuaded to partner me in a Junior Jive event. (I believe she still carries the scars, to this day) The judge was the demonstrator mentioned earlier, Fred Jenyns, and believe it or not, we won. I had a perfect record, one comp, and one win. Needless to say, this happy state of affairs did not continue. I had partnered up with my sister and perhaps by now she had reached the state where the fear of physical pain was less influential in producing the desired motives for success.
A couple of years passed by with my sister and I competing in all three styles, Ballroom, Latin & New Vogue, which is a form of sequence dancing, unique to Australia. We had moderate success and won Australian Championships in the various amateur grades, mostly in the New Vogue field. We were at this time taking Ballroom lessons from Fred Jenyns, who I have mentioned earlier.
I had turned professional and was teaching part time at the studio (For my proper job, I was a research chemist) and one day the studio owner's daughter brought a friend into the studio. I looked at this girl and thought that she was " a bit of all right" (An Australian term, meaning she was good looking) Being rather shy and not at all forward, I took her home that same night. She was a very talented ballet & stage dancer and had been dancing and competing very successfully in that field since she was very little. Her name was Helen.

Within a fairly short time, Helen and I had become very serious about each other and we became engaged to be married. One evening Helen & I met up after work and went together to the studio, as my sister & I had a lesson booked with Fred Jenyns. Just before the lesson started, my sister announced that she wasn't dancing anymore and walked out. After the shock of this and some discussion, Fred suggested that Helen and I try dancing together. Helen's reaction was that she could never be good enough (Actually, the opposite was the case, as she went on to become one of the greatest Latin Ladies of all time). In any case we did try and the rest is history.
What are the most "Memorable Moments" of your dancing career?

As with almost all dancers, we wanted to visit England to study and to compete, especially at Blackpool. Most of the people associated with the studio were against the idea, thinking that we didn't have the talent and that it would be a waste of time and that we were putting at risk the very good jobs we both had. However, my parents and Fred Jenyns were particularly supportive, so we went. After the usual ups and downs, we started to get ourselves on the map and we were invited to make a tour of Australia, teaching and demonstrating. I believe that we are the only couple to have been invited back to their country of origin for that purpose.
A particular memory, which I will always keep, is that the very first person to take a lesson from me on that tour was Fred Jenyns, our former teacher supporter inspiration and most of all friend! Even today, when we get the chance to see each other, he will often quote things, which I have said in lectures as "little diamonds" of information, which he regularly uses in his own teaching.
Other memorable moments are, of course, winning of various Championships in England, including the Imperial, London, South of England & All England. Of the majors, becoming runners up in the Star, the UK and coming 3rd in the International on 3 occasions. Coming 3rd in the very first Professional Latin Rising Star ever held in Blackpool. Coming 3rd in the Worlds Professional Latin in Switzerland in 1979. Probably the most memorable moments as competitors was making the final of Blackpool for the first time. Firstly in one dance and later being in the final in all 5 dances. Surely it is the dream of all dancers to walk onto THAT FLOOR, with only 5 other couples. Believe me, the feeling is incredible. We were very lucky, we danced in 11 Blackpools, starting in 1970 and were in the finals on 8 occasions (1 Rising Star and 7 consecutive Championship finals, 5 in all 5 dances). No other Australian Professional Latin couple has ever come near that record.
As judges, Blackpool must again rate as the most significant. After being invited to join the board of adjudicators for the Junior and the Closed Championships, I have (so far) been fortunate in being invited to adjudicate twice at the Open Festival in May. Helen has also judged the May Festival at Blackpool three times, up to now. There can be no greater honour than being selected to adjudicate at the greatest Festival in the world of dancing.
Memorable moments as coaches are when couples with whom we work have success. We have been fortunate to have trained many British Champions, from Juvenile through to Professional. This is continuing to this day.
We all have people who we aspire to be like or that are our heroes. Do you have such people in your life that have given you inspiration and support?

Our influences have been many and varied. The great dancers of the day, Laird & Lorraine, The Irvines, Eggleton/ Winslade, The Hurleys (with whom we have been teaching associates for over 20 years) profoundly influenced us. Great coaches, Binick, Tolmeyer, Scrivener, Hancox and the dancers already mentioned, helped us to develop our techniques and shaped our minds so that we were able to become the dancers we were and the coaches we are. Being brought up in that particular era also instilled in us a set of ideals about dancing, which we will never lose. I feel, regrettably, that those ideals are less important to many of today's dancers. We still believe that "dancing" is the most important thing and that winning will always follow quality dancing. I fear that maybe today, winning (sometimes, by any means & at any cost) is the priority of many and that should this become the attitude of the majority, then dancing will be the loser.
As professional coaches and/or world-class athletes, you probably have very hectic schedules. What is a typical week/month like for you?

Regarding a typical week or month in our lives. Whilst still active competitors, we practiced almost every day as well as fitting in lessons etc, often not getting the chance to eat an evening meal until after practice. We were very busy with shows, teaching and competitions etc. As coaches, we teach most days, as well as travelling quite often to coach and/or adjudicate. When not working we both love to look after our little Bichon Frise dog, Chloe, who we rescued and who brings a special joy into our lives.
What advice would you give to new dancers, or those aspiring to be "Champions of Tomorrow"?

Be completely dedicated.
Practice every day, but make it productive. It's no use practising how to argue & "score points off each other". We all know how to do that.
Be honest with yourselves. Self delusion only meets with one's own approval. Learn what you do wrong & fix it. Learn what you do well & do it better.
Learn how to talk to your partner in a civil manner, listen to each other's point of view & try it (without sabotage). Proving yourself right & him/her wrong gets you nothing.
Remember in Competitive Ballroom & Latin Dancing it is impossible to have success alone. You have to have A PARTNER. (It's in the rules)
Do you have other "hobbies" or "interests" away from dancing/dancesport?

Golf, Computers, Golf, D-I-Y, Golf & Golf
How do you feel about "Amateurs" and "Professionals" possibly competing together in the near future?

I feel that it probably inevitable that "Open" events will come about. If that situation is what the dancers want, then so be it.
Under the current system, moving through the various Amateur ranks with a view to eventually turning Professional, to me, is a natural progression giving dancers a set of goals. I fear that a merging of the two sections will remove those goals.
Along very similar lines, it is my opinion that dancers should have reached a certain,(minimum), age before being allowed to progress to the next group. We have this with Juveniles, Juniors & Seniors (British terms). I feel that if Youths were not allowed to compete as Amateur until they have reached their 19th or even 21st birthday and Amateurs not allowed to compete as Professionals before they have reached their (say)25th birthday, then all of them would elongate their competitive careers. At present we are heading towards a situation where couples could be World Pro Champions whilst still in their teens and subsequently be "too old" in their early twenties.
I think such a situation would be a great shame and not particularly beneficial to the dance world.
When did you first get onto the Internet, and how do you like using this technology?

About 3 years ago. I like it very much & feel that it holds many, as yet, unexplored uses for dancing & dancers.
In fact I've taken a course to further my computer abilities and am now writing web sites from code. It's interesting, challenging & good fun.
With so many accomplishments to date, what other goals do you have?

Develop juniors and social dancing! Without dancers coming in at the bottom there is no feed for the top
.
---
Many thanks to Robert Richey for participating in this interview. Readers can e-mail him at robertrichey@dancescape.com,