Go to Bottom of Page
---
The Foremost Dance Studio in the World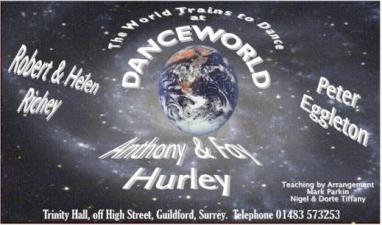 The very best dancers in the world, have for many years, passed through the doors of Danceworld, Guildford.
Danceworld's resident "Master Coaches"
are all highly respected in the profession & are recognised leaders in their respective fields.
All are former champions and their worldwide vast experience at the highest possible levels, in all aspects of Dancing, Coaching and Adjudicating, is an invaluable aid to the training requirements of competitive couples from the 4 corners of the globe. Their expertise provides the knowledge, guidance and inspiration which is necessary to enable any aspiring champions to further their dance skills and to achieve great heights of quality and artistry in their dance performance.
Please contact the studio for appointments or more information.
+ 44 (0)1483 573253

Top of Page ¦ Home ¦ Latin ¦ Ballroom ¦ Social ¦ Technique ¦ Studio ¦ Links ¦ About Us